3 minutes
The countdown to the opening of the Hortensia Herrero Art Centre has begun. This morning, the tarpaulin that for the past few months had been covering the building that will house the new art centre was completely removed and its façade can now be seen in all its splendour. This momentous event also starts a countdown that will culminate this November, when the Hortensia Herrero Art Centre will be opened to the public.
Amparo Roig, a partner at ERRE Arquitectura, the firm responsible for the refurbishment work on the building, explained that in order to restore the façade that has now been unveiled "it has been necessary to carry out thorough and detailed work on the palace's main façades due to the deterioration they have suffered over the decades. First, a study of the different layers of the paintings and murals was carried out in order to determine the original appearance of the building. Subsequently, the walls were restored and consolidated by stitching the cracks".
In the restoration of the façade, which lasted nine months, "a pictorial reintegration of the floral motifs on the cornices of the balcony has been carried out, the original wrought iron balconies have been restored, and the under balconies have been replaced with original ceramic pieces. In addition, the original ashlars have been cleaned, the neoclassical pediments have been covered, the protections and waterproofing have been restored, and the entire façade has been restored using lime mortar like that used on the original facing".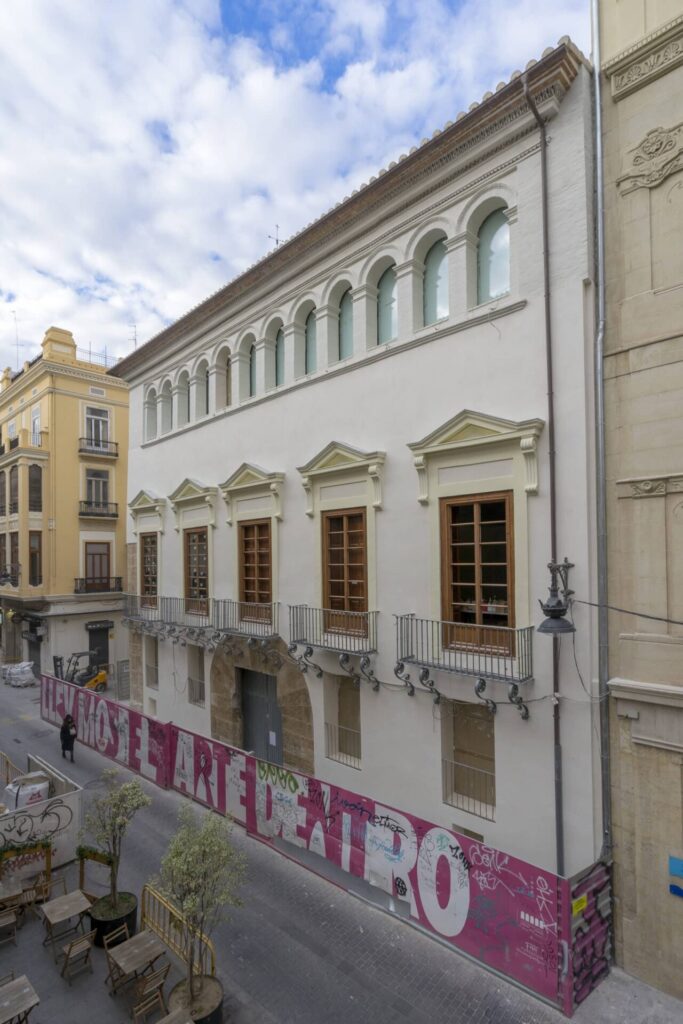 "We are really looking forward to the moment when Valencians and visitors to the city will be able to stroll through the corridors and halls of the Art Centre. Today that got a little closer and we can now announce that it will take place in November. We are particularly excited about the step that has just taken place, uncovering the façade and, therefore, a part of the important restoration work that is being carried out ", explains Hortensia Herrero.
The restoration of the Art Centre thus enters its final phase. From now until the inauguration of the art space, the work will focus on the finishes (lighting, wooden flooring and painting, among others), landscaping and commissioning the air conditioning, ventilation and audiovisual installations.