3 minutes
Five years after work began, the Hortensia Herrero Art Centre has completed its refurbishment and is preparing for its inauguration in November. This new museum within the city of Valencia, and located in the centrally positioned Calle del Mar, will bring together the private collection of the patron Hortensia Herrero and include works by artists such as Andreas Gursky, Anselm Kiefer, Georg Baselitz, Anish Kapoor and Mat Collishaw, together with exhibitions by other world-class artists.
In designing the restoration project, ERRE Arquitectura aimed to enhance the history already contained in the Valeriola Palace, but also to turn it into a major centre for contemporary art. In order to adapt the existing building to its new exhibition use, a continuous route has been established to create a seamless and natural user experience. The route ascends through the Valeriola building and descends in San Cristóbal, connecting through the building located in the garden.
The design envisaged to restore the lustre to the historic building includes a landscaped courtyard, as well as a basement where the public can visit the remains of the city's ancient Roman circus discovered during the archaeological excavations.
This historic corner of the city, once restoration has finished, will be opened as a complex covering a floor area of more than 3,500 m2 over four levels that will welcome visitors. Apart from recovering an important element of architectural heritage for the city, the transformation of this space will allow the private art collection of Hortensia Herrero to be enjoyed along with temporary exhibitions of works by both nationally and internationally renowned artists. In addition, there will be a wide range of cultural events, as well as conferences and various activities promoted by the Hortensia Herrero Foundation itself.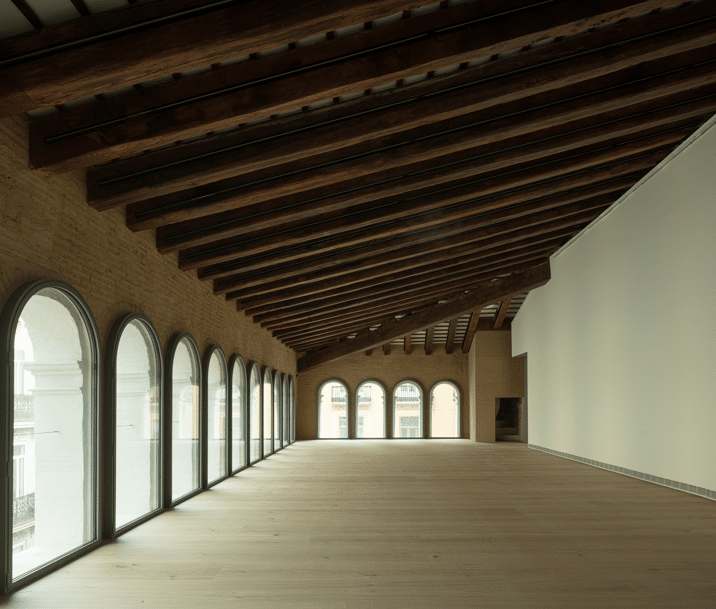 ---
Table of contents
---
ABOUT THE HORTENSIA HERRERO FOUNDATION
The Hortensia Herrero Foundation is a non-profit organisation whose mission is to implement initiatives that help society share a certain sensitivity, using art and culture as an example, and as a catalyst to turn the Valencian Community into a cultural reference point. Presided over by Hortensia Herrero, the vice-president of Mercadona, to date it has worked on projects revolving around the restoration of historic-religious buildings, contemporary art and dance.
ABOUT ERRE ARQUITECTURA
ERRE is an architecture, design and urban planning practice in Valencia, led by Amparo Roig, Jose Martí and M. Ángeles Ros. Comprising a large team of more than 30 professionals, ERRE has specialised in residential, educational, sports and office projects for more than 20 years.
It is committed to architecture based on knowledge, innovation and sustainability where the challenge posed by each new project is to understand and satisfy the client's needs and provide functional solutions to improve the lives of the people who will enjoy the use of the buildings.